What the product can do: (1) Collect Saliva DNA easily and safely; (2) Preserve Saliva DNA intact for at least 3 years at room temperature; (3) Storage and Transportation of Saliva DNA at room temperature; (4) Can do saliva direct PCR without DNA purification first.
Why you should use the product: This world-first and patent-protected saliva collection and preservation dry microtube (2 ML volume) can overcome all other saliva collection devices available on the current market (such as Oragene saliva collection cup) with preservation liquid needed.
(1) Safest collection device for any users: Based on novel preservation technology, there is no obvious preservation liquid inside the Charm-Protect Saliva Collection and Preservation dry microtube. If you want to ensure being the safest for any users when they collect their saliva in schools, at home or in offices, then you should use this technology with novel dry preservation technology with a maximum product safety.
(2) Most cost efficiency (the lowest price to collect and preserve a saliva sample): If you find any commercial saliva collection and preservatioin device has a lower price, we guarantee you that we will beat the any competitor's price with a further 15% off any competitor's price
(3) Easy to collect saliva: An easy collectable funnel attached to a microtube to ensure easy collection of saliva. Also, only 1 ML saliva is needed for collection, which is much easier than collecting 2 ML saliva.
(4) Preserve saliva DNA as good as any commerical device available on the market: Preserve saliva DNA intact for at least three years at room tempertature.
(5) Direct Saliva DNA PCR without DNA purification first: Our novel chemical composition can allow preserved saliva DNA be used directly in PCR amplification when you combined with our Charm-Boost Saliva Direct PCT kit, which can save a lot of time as you skip DNA purification step.
(6) Easy post-collection management: Four unique barcode-ready labels with each saliva collection dry microtube make sample tracing and management very easily. Also, the collection microtube is the same size as a regular mircotube as used in any lab, so the collection microtube can fit any tube rack or tube holder in your lab, without buying any new special designed tube rack or tube holder as using other saliva collecting devices.
(7) Higher concentrated DNA isolated and purified: Since there is no any dilution of any saliva, when a certain amount (volume) of saliva is used for DNA isolation, higher DNA concentration and yield can be achieved for each saliva gDNA purification with the saliva collection and preservation dry microtube.
How to collect saliva with Charm Protect Microtube: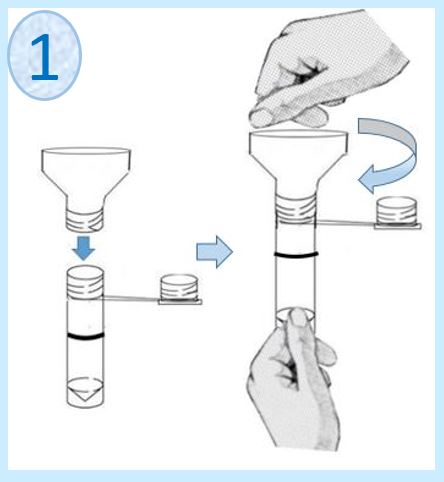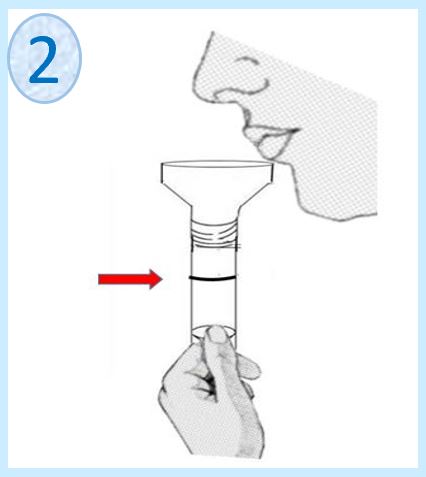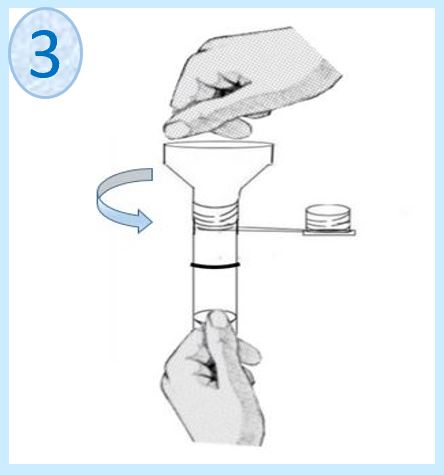 Step 1: Opena tube cap. Assemble the tube with a funnel as shown in picture.
Step 2: Spit and collect liquid saliva (not including foam) until it reaches the indicated line.
Step 3: Remove the funnel. Recap the tube tightly to ensure no leaking.
Step 4: Invert the tube for at least 10 times.